1
« on: February 19, 2018, 11:31:55 pm »
Angry ended up going 5-2, with a tough initial loss to Physique Black as the first fight. While an exciting match to watch, it mostly consisted of Ian's bot throwing me around violently. Angry's always been a resilient bot, and held up well for quite a while, until the new steel 3/8" axle bent. I suspect that I was inverted, and Ian's drum smacked the end of the blade, given him a good lever to bend the shaft. I tapped, swapped in a spare shaft, and was ready to go.
I had 4 wins in a row, including a great fight against Foiled!. Fire Arrow finished Angry off with a cow-catcher type of attachment. The second shaft ended up quite a bit tweaked too, but was still functioning by the end of the tournament.
7 fights did a number on Angry. It's one thing to be more resilient than your opponent, but you also have to keep things running fight after fight. Things were getting loose and janky by the Fire Arrow fight. One of the 4 retaining screws on the weapon motor kept loosening up, eventually jamming up the weapon belt/pulley system.
After the Physique fight, the weapon motor can actually started to separate from the axle. The motor is small enough that this is just a press-fit, no set screws in sight. I believe the motor cover was the only thing that kept the can from flying all the way off.
The drive system held up well, as did the electronics and frame. The Foiled! fight caused a good portion of the blade to flake off at a known stress riser. Next time I won't get fancy with the tooth design, and leave it blunt.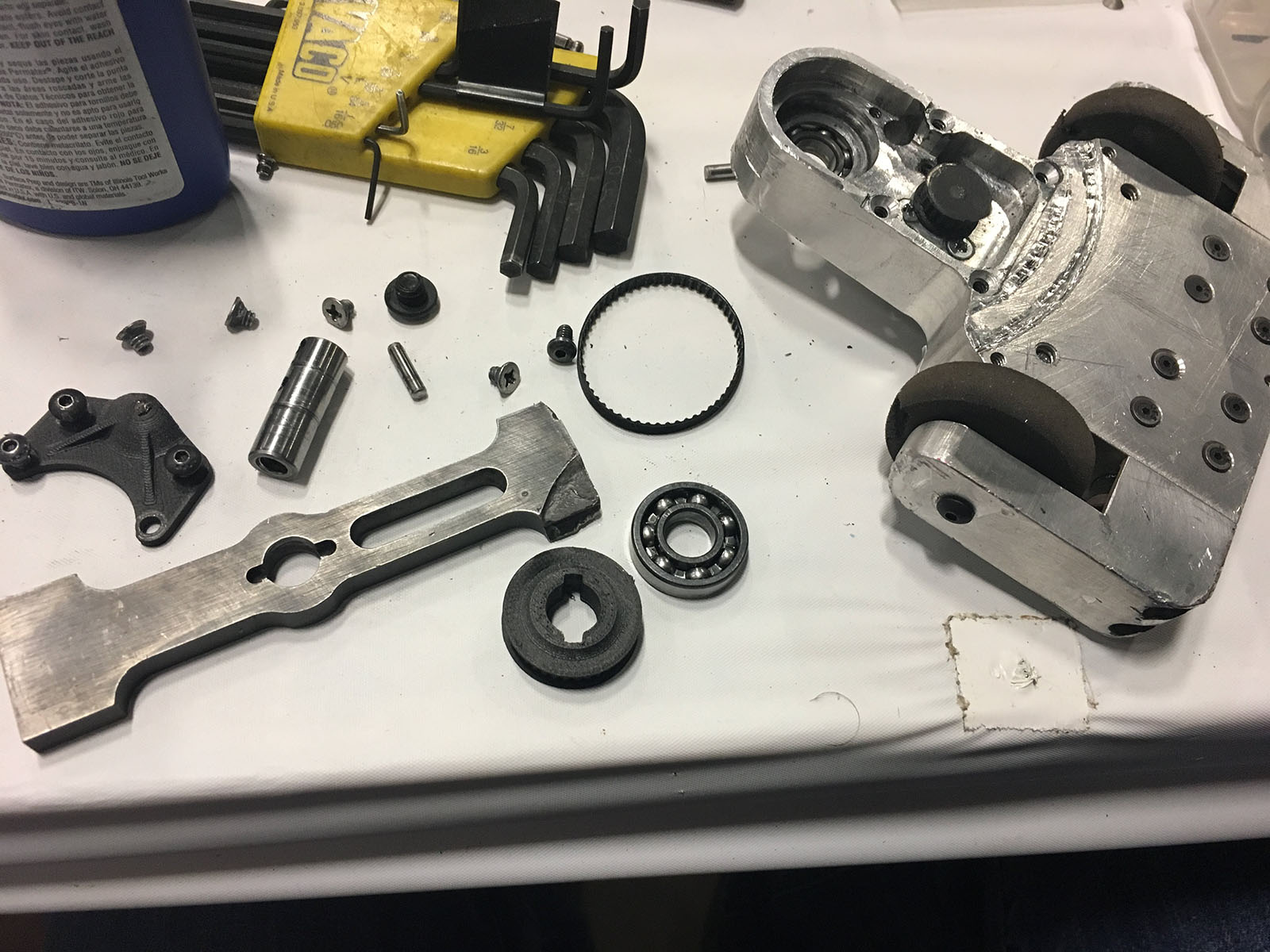 The new standoff that improved my blade height when inverted worked out well, although I only used it against non-spinner bots. The small magnet at the top seemed to work.
In terms of upgrades, I'll see if I can find a source for harder precision shaft. Or maybe I'll make one out of S7, and just temper it to a relatively malleable state. I'll slightly tweak the blade, but will keep the pin-based solution, since it seemed to work fine.
Overall, I was more than happy with Angry's performance.
Pete