Show Posts
This section allows you to view all posts made by this member. Note that you can only see posts made in areas you currently have access to.
Topics - satacoy
Pages: [1]
1
« on: June 03, 2015, 10:30:55 pm »
2
« on: April 22, 2015, 01:20:37 am »
I've been working on a new balancing skateboard project. I'd built a different one a few years ago, this one has a lot of upgrades and was a great stretch of my machining, software, and electronics skills. I've added a
detailed build report
on TeamCosmos.com.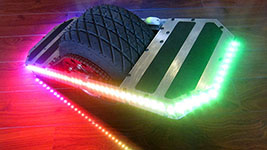 I'm hoping to post some video of this thing once we get a sunny weekend, but the weather hasn't been cooperating.
Pete - Team Cosmos
3
« on: February 23, 2015, 08:36:21 pm »
Sparkfun Electronics is based in my neighborhood, and they have just announced an antweight competition in June as part of the autonomous vehicle competition. Since I've been spending a lot of time in the garage lately working on a new skateboard, I thought it'd be fun to dust off the ol' accountant and see what shape she was left in.
She's missing a weapon motor, her battery is dead, the wheel guards are bent to hell, and the front pulley is in bad shape.
However, in her storage box was a spare weapon motor, spare pulleys, spare drive motors, spare wheels, etc. So other than a battery, I should be in good shape to get her back in the game. No major redesign or rebuild, more of shaking the dust off.
I fired off an e-mail to long-time teammate Ted Z., and he's going to build something new for the competition too. A Team Cosmos reunion?? Sounds like it!
Pete
Pages: [1]